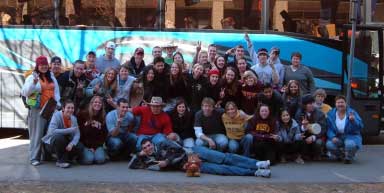 History
Passion and the Idea...
During the fall of 2003, four freshmen at the University of Minnesota shared the passion and the dream to truly make a difference in the community, nation, and world we live in. Less than three years ago, these four "inexperienced" freshmen started something that has been turning this dream into a reality ever since - Students Today Leaders Forever.
The organization was founded as a student organization on the campus of the University of Minnesota with those four people and the required $15, and it has grown to be so much more in the short time since. Students Today Leaders Forever was established with the initial idea of organizing a community service road trip over spring break, in which college students would travel by bus to Washington DC, volunteering and teaming up with organizations in several cities along the way. While a few said their vision was too much too soon, they knew that there are always those out there who believe in the power of people and the strength of organizing. They found those people at the University of Minnesota and in the Twin Cities community through working closely with our advisor in the Office for Student Affairs, supportive teachers, and through teaming up with the local YMCA.
During March of 2004, 43 students from four different universities traveled from Minneapolis to our nation's capitol, stopping in four cities along the way to do various community service projects, each focusing on a different area. The success of the first ever Pay it Forward Tour ultimately sparked the growth of STLF that was to follow.
The rest is history in the making.